SO WHAT?
Making Sense of the Numbers
The Initiative's participant cities currently comprise a data sample size that represents over a quarter of Minnesota's population (29%) and includes municipalities of varying types from the state's four largest cities to inner and outer-ring suburbs of various sizes. Through the process of compiling four years of data for 22 Minnesota cities, certain trends have emerged. Key findings from each indicator category are visualized and explained below.
ENERGY
A major discovery of this project was a 'check-mark' trend in energy use over time. Total energy use decreased in every city from 2008 to 2010 and increased from 2010-2011. This trend was broken in 2012, with the majority of cities showing a decrease in annual energy use, but several large increases causing the total energy use to peak in 2012.

Another finding that is consistent across all five years is that the majority of energy consumption is commercial & industrial energy, not residential. Overall, average residential energy across all cities is 40% while commercial/industrial is 60%. This varies slightly by geographic location of the cities: residential consumption is a smaller percentage in central/stand-alone cities than it is in inner-ring and outer-ring suburbs.

FIVE-YEAR TREND
TOTAL ENERGY USE | 2008-2012 (MMBTU/YEAR)
ENERGY USE BY SECTOR
RESIDENTIAL VS. COMMERCIAL/INDUSTRIAL BREAKDOWN SHOWN FOR 2011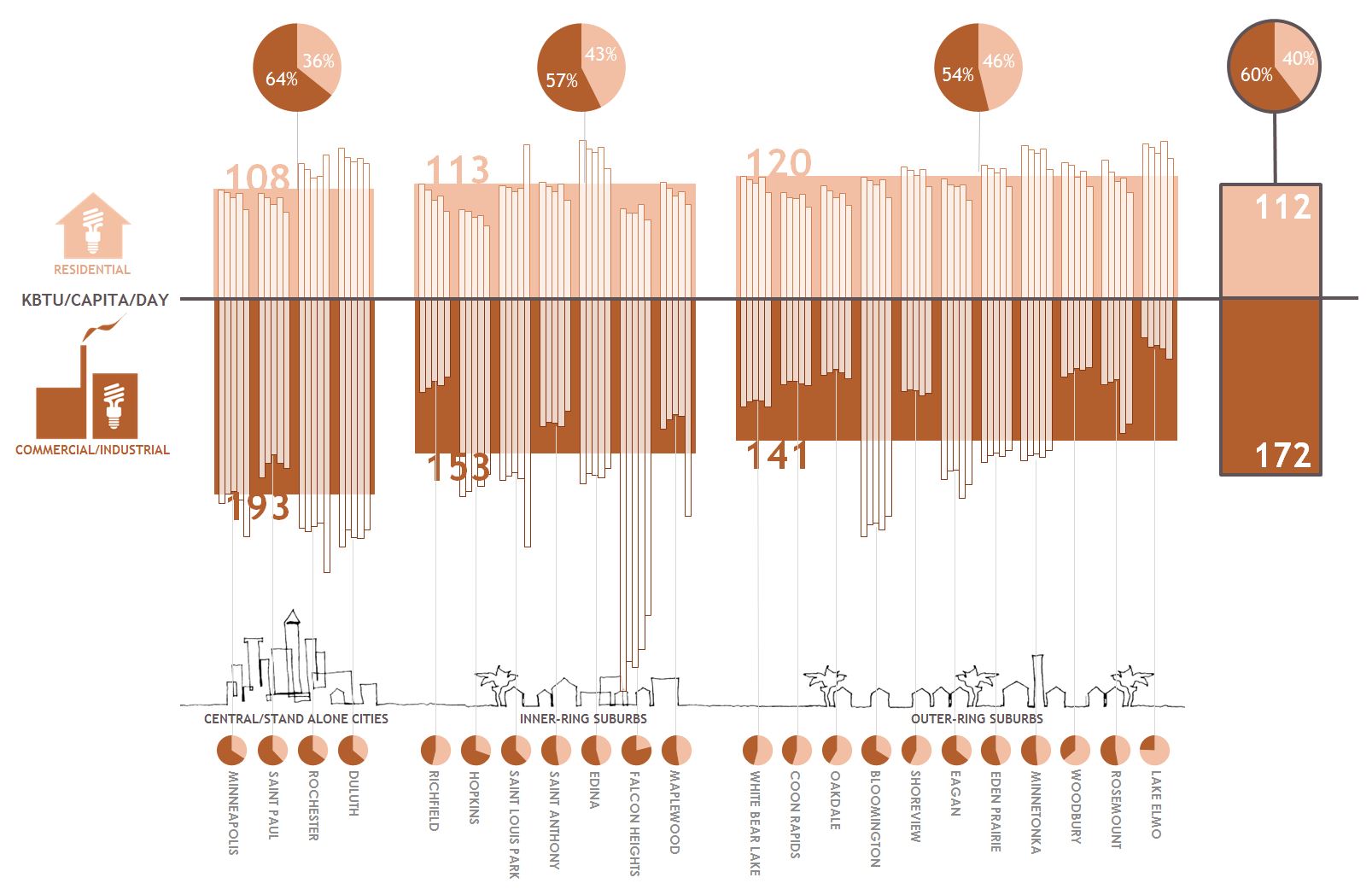 WATER
Potable water use shows a similar five-year trend as energy, with total use dropping from 2008-2010 and rising from 2010-2012. However, this trend is not as consistent as the energy trend when looking at individual cities. Stronger trends are seen when comparing residential and commercial water use. Unlike energy, residential water use is greater than commercial/industrial water use, especially in suburban cities. Additionally, residential water use per person increases with distance from central cities, suggesting that lot size plays a key role in household water use.
WATER USE BY SECTOR
RESIDENTIAL VS. COMMERCIAL/INDUSTRIAL BREAKDOWN SHOWN FOR 2011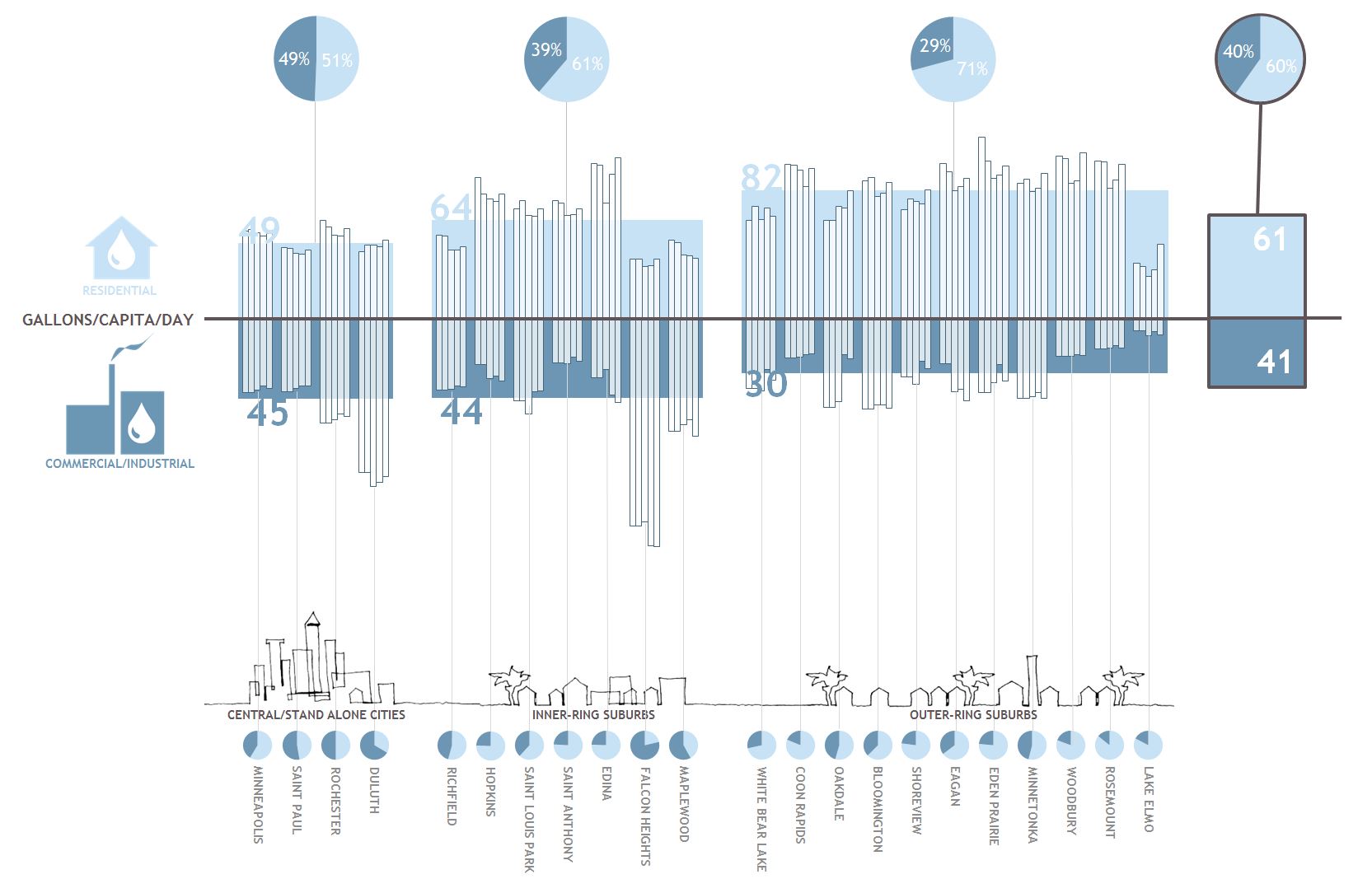 TRAVEL
VEHICLE TRAVEL BY CITY TYPE
VMT/CAPITA/DAY | 2012

Travel data reveals that the total vehicle miles traveled (VMT) has decreased only minimally over five years. A stronger finding is that the average miles traveled per person is lowest in central/stand-alone cities and highest in outer-ring suburbs. Additionally, the average VMT per person in Regional Indicators' cities is lower than both the Minnesota and national averages.
WASTE
Because waste data is collected at a county-wide scale, this metric is not as city-specific as the other indicators. In order to estimate city waste numbers, county data was pro-rated by city population. This provides a general ballpark of city-wide waste data but is not specific enough to reflect the waste trends of an individual city. However, conclusions can be made at a county-wide scale, where over the seven counties involved in RII in 2011, 47% of the waste was recycled, 29% incinerated and 24% landfilled.
ALMOST HALF OF MUNICIPAL SOLID WASTE (MSW) IS RECYCLED
BREAKDOWN OF MSW BY COUNTY - 2011 (POUNDS/CAPITA/YEAR)

GHG EMISSIONS
Greenhouse gas (GHG) emissions are calculated in this project using the method prescribed in the U.S. ICLEI Community Protocol for Accounting and Reporting of Greenhouse Gas Emissions, October 2012 (ICLEI Protocol). In order to be fully compliant, the ICLEI Protocol requires the inclusion of emissions associated with energy, vehicle miles traveled, airport operations (when they constitute 5% or more of a community's total), municipal solid waste management and wastewater treatment. GHG emissions reported here do not, however, include those associated with the provision of food and products consumed within a city but produced outside of a city. A consumption-based emissions estimate would likely be roughly 40% higher than shown here. Such accounting highlights the importance and efficacy of more sustainable consumption and sustainable materials management for cutting global carbon emissions. All emissions can be converted into carbon dioxide equivalents (CO2e) to generate a common metric to compare all four indicators.



THE LARGEST CONTRIBUTOR TO
GREENHOUSE GAS EMISSIONS IS ENERGY
BREAKDOWN OF GREENHOUSE GAS EMISSIONS - 2011 (all 20 cities)
When looking at the breakdown of GHG emissions in 2011 for each category, energy dominates with 68% of emissions. Vehicle miles traveled is the second largest contributor at 25% of emissions. Airport share equaled 5% of total emissions, solid waste - 1.5% and wastewater treatment was only 0.5% of the total (energy used to pump and clean water is included within the energy sector in this case).
This analysis reveals the magnitude at which energy contributes to overall greenhous gas emissions for the 22 cities studied; explaining why the trend lines for GHG and energy over the four year study period closely align. In addition, it reveals that the four 'primary' indicators which data was collected for in this study (energy, water, travel and waste) cover the majority -91.5%- of all GHG emissions.
Next Steps
An original and continuous goal of the Regional Indicators Initiative is to correlate metrics with the strategies outlined by the GreenStep Cities program. The 'best practices' outlined in the GreenStep Cities program provide cities with an expansive list of sustainable strategies but lack a way of measuring progress towards sustainable goals.

Currently, 20 of the 22 RII cities have joined the GreenStep Cities program, providing an opportunity to compare the best practices each city has adopted with the data collected through the Regional Indicators Initiative. By comparing the strategies adopted with data collected through the RII, the hope is that the impact of each strategy can be measured. In addition, strategies that cities have adopted that are not a part of the GreenStep Cities program can be identified for continued improvement and refinement. In the future, this collaboration can guide cities to focus on selecting the best practices with the greatest impact.

Out of the 28 best practice categories, 19 are directly measurable within the Regional Indicators Initiative's four current indicators. Categories that are not currently directly covered include: Land Use, Urban Forests, Efficient Storm-water Management, Surface Water Quality, Local Air Quality and Local Food. A possible addition could be to expand the RII indicators to cover the remaining nine best practice categories that are not currently correlated.

The Regional Indicators Initiative's purpose, findings, and implications have been presented at several conferences and events throughout the United States. The findings of this Initiative have also been shared at public presentations in each participating city.
---
Call To Action
There are many opportunities to contribute to the Regional Indicators Initiative's mission and goals whether you are a city leader, business owner/organization leader or individual:
CITY LEADERS

The Regional Indicators Initiative currently includes 22 Minnesota cities and 29% of the State's population. The addition of each city enriches the data sample and provides a more complete picture of current sustainability in Minnesota.

If your city is interested in becoming a participating city, please contact Rick Carter at LHB at 612-752-6923 or regionalindicatorsMN@lhbcorp.com.

For more information about the GreenStep Cities Program:

BUSINESS OWNERS & ORGANIZATIONS

Sustainability in business refers to practices that are designed to keep your company and the environment healthy and prosperous on social, financial and environmental levels.

The Sustainable Business Resource Center (SBRC) is a dynamic tool for Minnesota business professionals of all business sectors to learn the latest tips for greening their business while also increasing the bottom line.

Resources are organized by sector and offer a comprehensive list of strategies and additional resources.

For more information about SBRC:

INDIVIDUALS

There are many opportunities for us as individuals to decrease our personal resource consumption related to the indicators outlined by the RII as well as others.

The ThreeACTIONS Project is a resource that provides step-by-step instruction and explanation of 45 actions designed for individuals who are interesting in developing sustainable lifestyle habits. Actions are organized into categories of Waste, Transport, Water, Food and Energy.

For more information about the ThreeACTIONS Project: